Art Information / advice & FAQ
I am often asked, "Should I send my son/daughter to Art College?"
For me this is a very easy one as I believe that if you have any talent at all it will come out, all you need to do is use it. Colleges/Universities etc., all have a way of teaching that might not suit all students and in general they try to make their output fit a style. They each have a reputation for producing a certain kind of student with a particular brand of art, whether that be abstract or traditional.
Over my years of helping aspiring artists I have come across many people who have been badly affected by a college, one girl in her own words said "It destroyed my artistic side completely, I never picked up a brush in 10 years' — thankfully after some encouragement from me she is now actively selling her work and is one of the most talented artists I have been lucky enough to help. I have written a little e-book with more information and advice about making your talent into a viable income — click the link here: Art for Money.
Whilst I was going through my higher education, I was introduced to the Careers Officer and I pursued the direction of art as a career (although I was studying all science subjects — as you couldn't do art & science in my school). Basically I met a brick wall of, "You will never make a living as an artist, it is very hard to succeed in art" and was suggested a Fireman as a career! So, I chose sciences as I was really interested in anatomy and biology, unfortunately this meant that I could not do art at the same time.
Whilst I agree with the statement that it is hard to make a living as an artist to a certain point, it is certainly possible to make a good living from art, as I and many others have proved — I have made a living just from my talent for over 40 years. I would also suggest that being successful in many types of other careers is not at all easy, take becoming a pop star, singing or drama for example, also a lot of jobs can be positively mundane and repetitive, meaning . . .
. . . that there are a lot of people doing jobs they hate each day and they also spend more time at work than they do with the partner they fell in love with and vowed to spend the rest of their lives with! That to me, makes no sense at all — we do all have a choice.
Why not do something you actually enjoy - every day?

So, then we fast forward to several years later when I was working in London for Medical Research and became interested in having another look at becoming an artist. I was of course, still painting/drawing most days. I was told to get a copy of 'The Writer and Artists' Yearbook', this apparently would lead my way. Well, to cut a long story very short — it tells you it is very hard to make a living and you need an agent to market your work if you wish to succeed as an artist or a writer. They handle the approach to publishers and clients for your work — but they also take a commission in a similar way to an art gallery. I had an agent for a short time when I was illustrating books and in that field, I think it is probably necessary at the start, but I disliked being forced to paint a shape to fit a hole in the design and the pressure of deadlines means you have to cut corners or become very stylised — something I have never seen the point of. I produced my last book illustration in 1995 for Rand McNally in the USA.
It is also a bit of a lottery, how do you know you have picked the right agent for you?  One that is sympathetic to what you want to acheive and one who is going to work passionately to get you the commissions you want to do? It is a little easier with Galleries as you can see the kind of works that they have on the wall, but you still do not know enough about them to be able to choose the best one for you. If you do approach a gallery to sell your work you need to be aware that in most cases you will never know the clients who buy your work and of course they take quite a high commission of at least 45% plus.
Having an agent or using a gallery is certainly one avenue and a lot of talented people go down that route, but it is not the only way. In my view the best way is to put your work in front of the public, whether at exhibitions you attend yourself, or in a hotel or shop window.  Selling direct to the public achieves many satisfying results, as you get to meet the people who fall in love with your work and many will become loyal and good friends, you get to hear their comments and of course some criticism — which you need to listen to. You will also meet like-minded artists as well and this can be very helpful.
My wife is a writer and met similar challenges along the way and was also advised to get an agent. Like me with my painting, she is so passionate about her writing that she just HAS to write. So she started a blog writing about the things she is interested in and has since received approaches from societies, magazines and publishers to commission articles and books. She now has many titles to her name with top publishers.
As I said before, we are living proof that it CAN be done, it may not be easy, it may not bring a fortune in wages (at the start), but the rewards are far greater, as the quality of life brings so many more benefits — no one telling you what to do — AND when, no lengthy and expensive commute to work, take holidays or time off when you wish, work the hours you wish, a nicer work environment (home or studio), enjoyment in what you do everyday, satisfaction in acheivement, lovely comments from clients etc. etc. It is a Way of Life — not a job.
Read this e-book:  Art for Money.
I am happy to offer help and advice to anyone wishing to pursue a career in art.
Colin answers a few questions about his talent and his career as an artist…
What are your favourite memories from childhood?
It has to be my first visit to Scotland, when I had my face pressed to the glass of the car window, hoping to see my first Golden Eagle.  I also discovered baby Common Sandpipers on a beach.  I wasn't prepared for the noise of all the birds, and I now realise how much sound means to me, because usually I'm a very image-orientated person. I was 3 years of age when we lived in the Wiltshire countryside and can remember an adder coiled up by my tricycle, I can also draw the layout of the house we lived in and the farm buildings opposite as well as the scene from the windows.  So my visual memory is very strong, about this time as well, I started drawing what I saw.
What do you listen to while painting?
All kinds of music — from classical through to pop, which gets louder as I near the completion of a work.  Glenn Gould playing Bach's Goldberg Variations, Mahler's 5th, Rachmaninov, Sibelius, Schubert, Joe Satriani, Pink Floyd . . .
What do you like painting most?
That's difficult to answer.   I love creating atmosphere in sky and light in the landscape, but I also love painting water, it gives such freedom. I have so many favourite birds that I cannot pick just one. But each painting is inspired by something that I have seen — it could also be 10 years later that it is painted.  If there was one thing that I would like to pass on to other artists, it is the discipline (or lack of) of not painting over a detailed pencil outline, as this stifles creativity and becomes painting by numbers or as our daugthers used to say 'within the lines'. My work changes as it is painted and rarely matches any sketch or layout that I may have done beforehand. I even adjust the composition and move things around.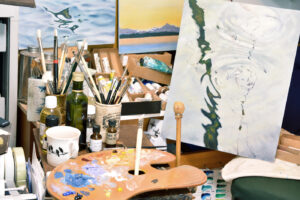 What materials do you use?
For painting in oils, I use Michael Harding's and Francois Schaal's superb handmade paints because they source authentic pigments, usually matched to the old style paint and no fillers or addititves are added.  Spometimes only 3 colours are used in a painting (except white and black). I paint with natural hair brushes, including hog and pure Kolinsky Sable.  I paint on Gesso boards which I prepare myself with 10 coats of Gesso, as I like the luminosity and texture it gives.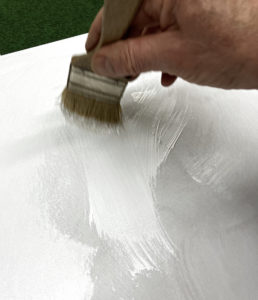 For Watercolours I use Artist's Watercolours, and paint from a limited palette of about six colours.  I usually paint on Arches 100% pure cotton paper.  I prefer Kolinsky pure sable brushes, and I use the same size of brush (no.6) for everything, including fine detail - see the Shop for these brushes.
I would advise any aspiring artist to invest in the very best quality materials they can afford and with Watercolours especially, try not to paint with a mix of different manufacturers, always use the same paint from one manufacturer as they each go to great lengths to make sure that they mix together and do not interact badly. When considering how much materials cost, paint is probably the smallest ingredient, so expensive paint is well worth buying as you will only use a very small amount for each work.
I also use woodcock pin-feathers, but these are only suitable for creating small paintings, and they account for a small fraction of my work.  You can read more about my woodcock pin-feather painting  here ➤.
Watercolour is supposed to be a difficult medium to master, do you have any tips?
Because I taught myself, I have mastered many different ways of creating the effects that I want.  Most artists are either taught incorrectly or have never discovered the way to achieve smooth washes and to be able to correct mistakes. In the image below I decided to extend the sky by about 20mm — after the picture was finished and just before it was framed.  This is very straightforward as long as you adhere to a few principles, one of which is not getting the paper so wet that it curls (because it was stretched before painting it needs to stay flat when it is framed). Making clouds look real and soft, is still the most difficult challenge.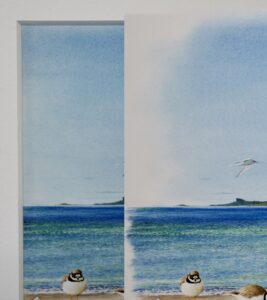 What do you see as your strengths in your ability and your approach to your passion?
My main strength is a belief in my own ability and that I will succeed, but perhaps my greatest is how I see things, not necessarily in a different way to others but I do see the detail, structure and essence of a subject in an almost 3D way. Also I feel very strongly that being able to paint anything is crucial to an artists development, as each time you learn something about your talent and about yourself. Studying (or knowing) your subject is the only way to be able to paint it succesfully. "Fail to Prepare — Prepare to fail", is a very good phrase to remember, the mind is a very powerful thing — so use it. I have also wanted to challenge myself and my ability, by tackling difficult and demanding subjects, techniques and sizes of work.
I know that my work gives the impression of being fairly detailed, but when viewed close up it is 'the impression of detail' (which takes many years to perfect, see images below), that becomes apparent — it also works when viewed from a distance, which is unusual. Painting so many different subjects also means that I don't have a set style (or way of painting), that is very evident when seeing a body of work together.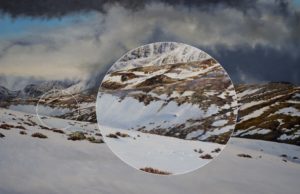 The way work is presented to the public is very important and I have always been keen to make presentation a high priority, as well as ensuring that my work will stand the test of time by using conservation or museum quality materials.
I think anyone who works for themselves will know that you just don't ever get up in the morning and say: "I don't feel like doing this today" — you want to! So self discipline is something I have always had.
It is so important to paint every day if you can, if you draw a parallel with a musician — he/ she may be very talented but if they do not practice every day for hours, they will not be able to bring that talent out. The same applies to art, if you wish to improve, it is no good painting once a week. I know that if I have a break of a few days, it will take another few days before I can paint in the same way again. I also have learnt that if a painting is not going well you can just walk away and return to it later, it will work out.
What was the first piece you sold and when?
I remember that clearly to this day, it was a scraperboard drawing of a running Cheetah and I sold it for £5 when I was about 15. I painted many commisions after that and produced book illustrations for Collins, Ladybird Books, CountryLife, Dorling Kindersley and Readers Digest to name a few, but I disliked having to cut corners to produce the work. So, I decided that if I was to be an artist, I would paint what I wanted to. The first painting I sold as a professional artist was for £450 and was a watercolour of a mallard with ducklings painted in 1987.
How do you know when a piece is finished?
This is easy for me as I have a long record of selling my work, I know roughly what I will get for each painting whilst it is in progress — so once I have spent that amount of time — then there is no point in continuing. Put simply, if you are not improving the piece then stop. You learn from each painting (or should do) and as you move onto the next one you take that with you. Brooding over a work or contiunually 'fiddling' with it, hampers your development — get on with the next piece and learn from each.
What or who influenced your art?
A difficult one for me, whilst I was young I was drawn to Eastern art — its simplicity inspired me. As well as the Oriental artists I also admired Thorburn and Durer to name two. I also bought lots of art books and marvelled at those artist's works as well. Later in life I realised I had not looked at them at all since, so I sold the collection. I had decided that I wanted to paint in my own style from what was inside me and not to become a clone of anyone else's work. To this day I have never visited an art gallery to look at paintings. I am inspired by the natural world — that is enough.
I firmly believe that if you have any talent then you should be true to yourself producing your own original work and not becoming a copy of another artist.
If you could go back to when you started as an artist, what would you do differently?
Ah, interesting — well, firstly I would not want to change my life or how I have developed, but I suppose the biggest thing I have learnt is that, the more you do, the more you learn AND the better you become. So, I suppose as a young artist I should have done more! Which might have been difficult as I can remember my parents complaining that they could never find enough paper — I drew on the back of so many things 🙂
Why do you not enter your work into competitions?
I don't see the point in art competitions.  Art is such a personal thing.  Imagine putting Salvador Dali, Monet and Leonardo da Vinci in a contest to choose the best artist – that would be ludicrous!
In a similar way, I find it hard to justify the craving for awards.  For me, the simple fact that people are prepared to buy my work is enough.  I count myself very fortunate to have a talent and to be able to make a living from it.
What makes a painting a work of art?
To me, a work of art should satisfy two criteria:  it should be beautiful, in the opinion of the beholder;  and it should exhibit some degree of talent, which means that it should be beyond the means of most people to reproduce it.  I know from my own work that I actually have very little control over what I produce — there is another force at work which I cannot fully explain.
I don't believe that all art must be figurative, but talent must be apparent in the creation of the piece, such that another person would find it very hard to replicate.   I also believe that skill is something that can be gained with practice, but talent is something which is much harder to define.
Do you exhibit in any galleries?
Since moving to the West Coast of Scotland I now exhibit regularly in Resipole Studios, a Gallery on Ardnamurchan which has an enviable reputation and is a wonderful space to display art — it is well worth a visit. The studio and Gallery here at Kennels Cottage are open most days and visitors can wander in, chat to me about my work and also catch a glimpse of a Red Squirrel or Pine Marten. I've also exhibited at some high-profile venues over the years, including The Mall Galleries in London.
I like to meet people in person and get to know them without any pressure, which is why I paint where my work is on show as often as I can.   I've always viewed my website as another gallery — new originals are offered for sale regularly, and I update my Facebook page with pictures of work in progress.
What drives you to keep painting?
I have no idea.  All I can say is that it's not a job — it's a way of life.
What is the best part of being a professional artist?
Being able to earn a living from something that I enjoy doing, and also having the freedom to visit places that we wouldn't be able to…
Name some of your favourite places.
Islay has to be one of my very favourite places, but there are many others.  I love being on top of the hills and feeling the wind in my face.  Having spent 16 years in the New Forest, that's still a very special place.  And mostly, I love being near water.
What do you do in your spare time?
I don't have any!  But photography has always been a great part of my life — my father had a camera shop when I was a teenager so photography is in my blood, and I still have one of my treasured Nikon F2s from that time when I worked for the Press, I also started a full photographic studio from 35mm up to 5"x4" as transparencies or black & white, all hand processed as well — but the artist in me won and eventually I left full-time work.   Whenever we get the chance, we head off into the hills with the cameras to enjoy the countryside and the wildlife.   I'm also passionate about cooking — I particularly love cooking seafood and Oriental dishes and a recipe book has been started.  But as in my painting — I cannot follow a recipe!
Throughout my life I have always made things (especially those that I could not afford), butterfly cases, darkroom exposure meter and macro stands etc, various tools, a folding pocket knife, my own beechwood travelling easel, two fly tying vices — the list goes on. Recently though because I love wood, I have used beautiful woods of three different kinds with an inlay of a Woodcock in mother of pearl to restore this knife, which is the latest of two and I have a few more planned. 

-