Daring to Fly - the wildlife paintings of Colin Woolf'
by Joanne Woolf
This beautiful book showcases a wide selection of Colin's work, from pencil studies to large colour paintings.  Printed on finest heavyweight paper with a lovely 'feel', this is a very special book - one that we hope you'l treasure for many years to come.
Written by Colin's wife, Jo, the text traces Colin's life and career - from his childhood as a keen naturalist in the New Forest, through his university studies in animal science, right through to his decision to take a great leap into the unknown and become a professional wildlife artist.  Treating each painting or drawing individually, it offers an in-depth, entertaining insight into Colin's aims, beliefs and inspiration.
Among other things, you'll find out what Colin strives to achieve with every new image, what drives him as an artist, why he chose to work in watercolour - and you'll also find some fascinating tips on painting technique.  The reproduction of the images is superb, and the book is a joy to browse through.
Large-format hardback book (345 mm x 245 mm)
178 pages
Over 260 images, full colour throughout
Printed on heavyweight paper with a double-folded glossy dust jacket
ISBN:   978-0-9556968-0-0
Published by Madwolf Design, 2008.  Printed by Creative Ideas in Print, Stockport.
You can buy a copy of 'Daring to Fly' by clicking here ➤
REVIEWS AND FEEDBACK
Here are some of the wonderful comments that we've received about 'Daring to Fly': 
"A work of art in itself."
"An outstanding achievement, superb quality, and a lasting investment."
"There is only one word to describe it:  stunning."
"Well written, beautifully illustrated, excellent printing, outstanding presentation."
"It will be savoured over the winter months, like a good malt."
"An absolute delight."
"We will treasure it for years to come." 
IN THE PRESS
"This expensively produced book reflects the eye for detail Colin Woolf shows in his paintings.  The artist admits it took a while to find his true vocation and the words tell the surprising story behind his career.  The large format book... shows clearly why he is one of the country's top painters of birds."  - The Countryman
"This is a stunning large format book which not only showcases the brilliance of the artist, but also gives an interesting insight into what drives someone to succeed in this career."  - Shooting Gazette
"Fans of Woolf's art will find plenty in this book to keep them interested, whether that is the opportunity to examine his paintings and sketches, or the process of creation of his more well-known works. For those unfamiliar with the artist, the book serves as an excellent introduction to the painter." - Birdwatch
A stunning husband and wife collaboration... This really is a fabulous production, beautifully presented in a large format."   - Field Sports
"This book showcases the amazing work of top wildlife artist Colin Woolf.  Colin works in pure watercolour and his brush techniques are so clever and subtle that you almost believe you could actually touch and feel the subjects he brings to life.  A worthwhile investment for all nature lovers." - Welsh Country
"Daring to Fly is about the life and work of Colin Woolf, one of the leading wildlife artists in the UK today. Expertly written by his wife, Joanne, this is a truly beautiful book, both in its content and its appearance."  - Falconer's & Raptor Conservation magazine
'Woodcock and Pin-feather Painting'
by Colin & Joanne Woolf 
Limited edition of 500 copies worldwide, each signed and numbered. 
For over 20 years, Colin has been painting woodcock with woodcock pin-feathers.  He has revived a little-known traditional technique and refined it into a breathtaking skill.
Published in 2012, 'Woodcock and Pin-feather Painting' is a celebration of Colin's achievements with pin-feathers, a confirmation of his passion for woodcock, and a testament to the reverence in which woodcock are held by so many people.
You'll find a unique combination of natural history research, facts and folklore, historical references, anatomical studies and explanations. Colin provides an insight into the difficulties involved with pin-feather painting, and the challenges presented by woodcock as a subject.  His descriptions are down-to-earth and honest, revealing his ongoing struggle with wayward pin-feathers and his long-standing passion for this shy woodland bird.
All the paintings, drawings and photographs are superbly reproduced in full-colour throughout, and most are shown life-size.
Hardback, approximately A4 size, bound to an extremely high standard. 
144 pages, full colour throughout.
Printed on heavyweight paper with a double-folded matt laminated dust jacket
ISBN numbers:  
Standard edition 978-0-9556968-1-7
Special edition 978-0-9556968-2-4
Collector's edition 978-0-9556968-3-1
Published by Madwolf Design, 2012.  Printed by Creative ideas in Print, Stockport and bound by Carronvale Bindery, Falkirk.
To buy a copy of 'Woodcock and Pin-feather Painting', please click here ➤
REVIEWS AND FEEDBACK
Here are some of the lovely things that people are saying about 'Woodcock and Pin-feather Painting':
"With many thanks for your superlative 'Woodcock', the second book I have bought from you. In my eyes, as a nature lover and ex-photographer... both are as near to perfection as one can get."
"Superb - I will treasure it and it will keep me in good memories into my old age."
"The quality of the book is second to none - definitely no corners are cut."
"I'm lost for words... simply beautiful. Apart from the artwork, the attention to detail in the production of this volume speaks volumes of the care you take."
"The book is just a wonderful piece and I will certainly appreciate it even more when I have studied it properly, then treasure it for many years to come."
"What a fantastic book on woodcock, one you must be really proud of."
"What a fabulous book... I will now spend many a very happy hour digging into the book and discovering as much as I can about the bird that we all love."
"I am very pleased with the book, and absolutely love the woodcock drawing."
"Just received your books.  I'm speechless... The quality and details are spectacular.  Truly art to be admired for generations."
"...as a booklover, how could I fail to be delighted! Apart from the most interesting content... the illustrations are fantastic and the book has a wonderful 'feel' both in a tactile way and the ambience from the text."
"I sat down in front of the log fire with a glass of wine and could not put in down till I had finished it."
IN THE PRESS
Highland Times: "...the most inspirational and tactile book I have ever had the privilege of reading."
BASC Shooting & Conservation: "This extraordinary and beautiful book sets out to capture the magic of the woodcock and succeeds magnificently... this will inevitably become a much sought-after collector's item but its true value lies in the beauty of the reproductions and the timeless, magical appeal of the woodcock."
Scottish Field:  "A beautifully crafted book and a hymn to delicate wildlife painting." (5 stars)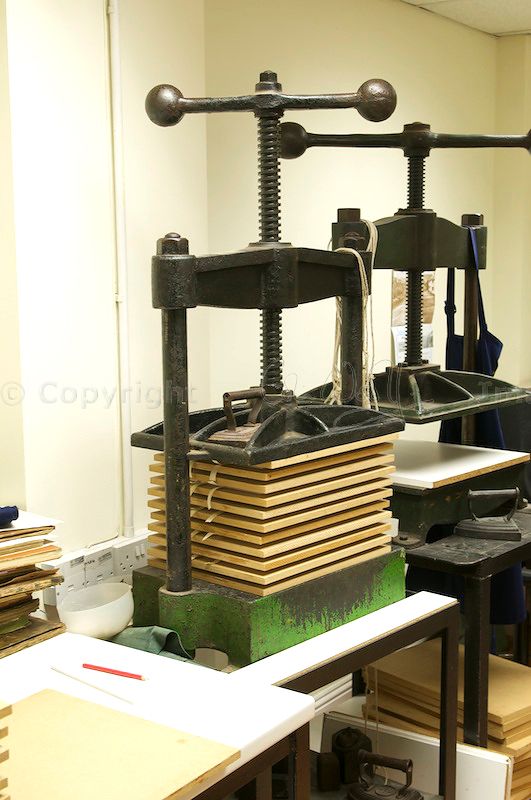 A view behind the scenes as the woodcock books are hand-bound
Colin inspecting the woodcock books