On the Easel
Here you can watch paintings in progress, or enjoy a preview of newly-completed images that are fresh off the easel.
This is often the first place where you'll see a painting or pencil drawing that may come up for sale later on.  If you would like to know more about any of the pictures shown here, please feel free to contact us.  Paintings sometimes disappear quickly, so act now to avoid disappointment!
If you'd like to be told when Colin has completed a painting or drawing of a particular subject (perhaps an otter, an eagle, or a favourite landscape), why not drop us an email?   You will then have first sight of any new pictures that we think might interest you, with the option to purchase.
Remember to check Colin's   Oil Painting site and  his Facebook page  for updates as well.
---
scroll down to see earlier works in progress
12th October 2018

We now have printed stocks of our new Christmas card and our annual Newsletter is at this moment being inserted into envelopes ready to send out next week, it is 16 pages packed full with latest works, news and of course a new Prize Draw, to win a painting worth up to £1500.  If you would like a copy then head over to our contact page and send us your details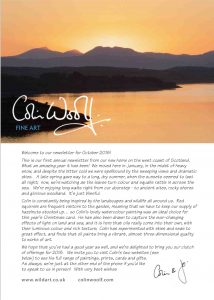 26th September 2018

I am ashamed to see that it is almost exactly a year since I made a post here!  I shall make an effort to better that.  We have just overhauled the software we use to send out our monthly Newsletters and are very please with the new one - check out MailPoet if you wish - so simple and intuitive. Our new Christmas cards have been designed and the first supplies will arrive soon, they are now on the shop.  Our next task is to create our annual postal Newsletter which goes out to all our mailing list (not just the email list), if you are not on either list then drop us an email with your details and you will then be able to take advantage of special offers etc.
This was one of the latest pencil studies of our new visitor - a beautiful Pine Marten.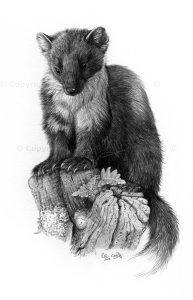 We have a good selection of pencil studies for sale but if you don't see soemthing you like, why not ask me to draw one specifically for you ?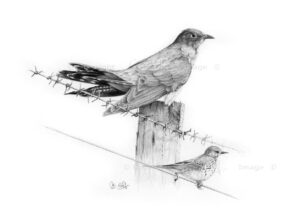 23rd September 2017

Well, where has all the time gone ! It has to be fair been a very busy time for us, as our younger daughter Leonie got married to Andrew Mead on the most glorious day in Oban.  With the lifeboat as an escort the bride arrived (with her father:-)) on their yacht.  An amazing day even more so as it tipped it down with rain all week before and on the Sunday after !
On the Wildart side things have also been very busy too, we have been working hard to bring you some new ideas and have no less than SIX new exciting ideas and products - from new books to silk scarves.
This has meant that the Annual printed Newsletter will be a lot bigger this year, if you are not on the list then I suggest you send us an email and we will send you one.  Here is a taster . . .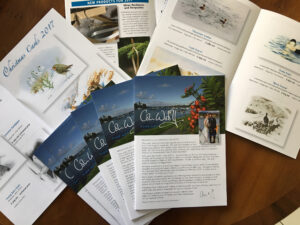 7th July 2017

Managing to keep the flow of paintings going, as well as getting about putting pictures in various exhibitions. Not really the weather for doing research out in the hills so just as well I haven't got time . . .
The pencil drawing collection is still being added to, but it also inspires me to turn one or two into oils or watercolours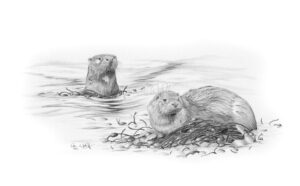 20th June 2017

Very pleased to be able to present to you all a collection of themed pencil drawings, each one is available individually un-framed and can be personalised as well as framed if desired. What is surprising from my point of view is that even though some of them look complicated and detailed and others fairly simple in design - they all took roughly the same length of time to complete!
This is something that will be added to on a regular basis, so please keep checking back over the next few weeks and months, to see what is new.
Click on the image below to see them all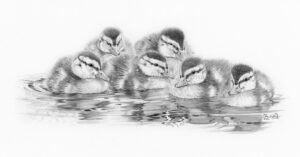 7th June 2017

It was good to be back at Gardening Scotland at the weekend, good luck to all who entered the Prize Draw. Now I am into a long run of pencil sketches with a theme - more exciting info about this in our Newsletter - if you have not subscribed then now would be a good time 🙂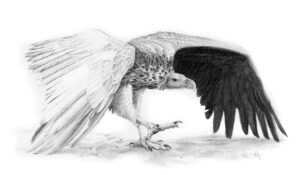 15th May 2017

Back in the studio now after a long drive into the night - a hectic four days at the RHS Malvern Spring Festival & Malvern Autumn Show. Thank you to everyone who came up to say hello and your lovely comments on my work. Fantastic weather too.
Here is the Woodcock that I was painting at the show, finally finished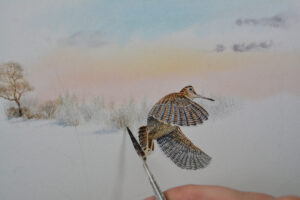 28th April 2017
Building up stock for my first show this season at the Three Counties - here is the latest one, this time another of my favourite birds and it is nearly 4 years since the last time I painted one !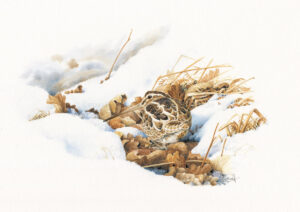 21st March 2017

We now have a new website - just dedicated to the Oil paintings - they will shortly be removed from here, as this site will be all about my watercolours.  To see the new site go here:
Enjoy!
The show season is almost upon us and I suddenly realised that I don't have a woodcock painted with a feather for sale - so here is one I have just started.
18th March 2017

Yes, it is that time of year again not such a special birthday this year ! But, I do have a challenge to show you, I always told people it was impossible to use a pin-feather to paint in oils and it nagged at the back of my mind for many years - was it actually impossible ?
The techniques I learned from using the geese pin-feathers made it possible, I am sure if I hadn't tried to use the geese feathers I would not have been at all successful.
So, the other day I started a small oil painting with a pin-feather and here is a preview, there is a video of it in progress on YouTube here: https://youtu.be/KW8XH28lTvs
Don't forget our Mad March discount code !
13th March 2017

The snowdrops this year have been wonderful, and although we haven't had as much snow as we usually do they still make a great show.  Our Robin has been singing for his territory and is now defending it aggressively from all comers, but looking at his face you would never know.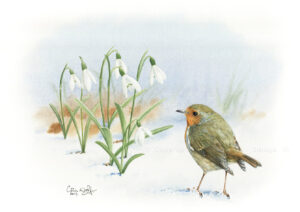 9th December 2016
Back into the painting (with frequent stops to pack up parcels for Christmas).  I have been working on this one for some time now, some pictures just take so much longer than you think 🙂  Getting the evening light just right was a real challenge. A couple more unusual subjects will follow this painting.
24th September 2016
Here is a little taster of the new Oil Painting collection which I have been working on over the last few months, these will be unveiled at the Glaziers Hall at the end of October, those who receive our annual postal Newsletter will get a preview in there.
29th May 2016
The Geese Pin-feather Olympic Challenge is now complete
This one is my favourite of the three Olympic Challenges, as all the elements match the image I had in my head so well, I was very lucky with the feathers, each one worked so well I could not have been more pleased with the way they worked.  I know only too well (from experience), that you may think you have chosen a good feather, but it doesn't always work out 🙂
---
ADDITIONAL INFORMATION...
Framing service
Framing suppliers are notorious for offering great mouldings and then discontinuing them, so we are constantly sourcing and re-sourcing our frames.  The selection that we offer is always of the highest quality, and we believe that they will suit a wide range of images.  If you're ordering a print and require a frame, we hope you'll enjoy the process of choosing one.
If you'd like more information about mouldings, or if you're looking for something very specific, please just give us a call. Delivery of all our framed items is by secure, reliable courier, and when it comes to packing Colin is a world-renowned expert!
Evening talks and art workshops
Colin is available as a professional speaker for societies such as art groups, ornithological societies and wildlife clubs. He will do more than just talk - he will demonstrate his painting techniques and he even offers full day workshops.  His demonstrations have been described as revolutionary and eye-opening. Give us a call if you'd like to book him as a speaker!
If you'd prefer tuition that is more focused on your own personal ambitions, Colin also offers one-to-one lessons, concentrating on the areas where you'd like to improve. At least three of his former pupils are now selling their work professionally. If you'd like to discover or refresh your artistic talent, why not contact him to discuss it further?